Resources
Linda Stout is the author two books, numerous articles and a variety of other resources. Please browse below to see a selection of Linda's best resources.
Books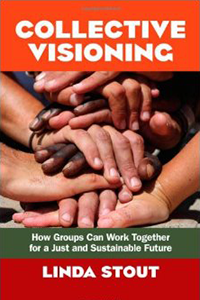 Collective Visioning
In far too many organizational meetings, equal speaking opportunity seldom results in equal say. Factors such as race, class, and personal history too often inhibit open dialogue within and among groups, which can lead to a sense of disenfranchisement within the organization, and subsequently, disillusionment with the movement.
Collective Visioning is the first visioning method to address these hurdles in the organizing process and to fully enable members to share their opinions without hesitation. Linda Stout uses her background and her own personal experience of marginalization within the organizing community to show how trainers can be more mindful of the diversity of their members as they strive toward a common goal.
Buy Now: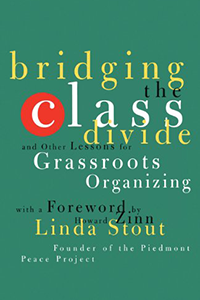 Bridging The Class Divide
Again and again social change movements – on matters from the environment to women's rights – have been run by middle-class leaders. But in order to make real progress toward economic and social change, poor people – those most affected by social problems – must be the ones to speak up and lead.
Bridging The Class Divide tells the inspiring story of Linda Stout's life as the daughter of a tenant farmer, as a self-taught activist, and as a leader in the progressive movement. It also gives practical lessons on how to build real working relationships between people of different income levels, races, and genders. This book will inspire and enrich anyone who works for change in our society.
Buy Now: